A Visit with Megiso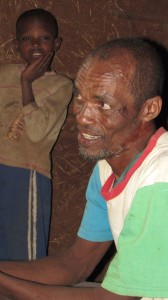 On her recent visit to Ethiopia, Mossy Foot President Sharon Daly was able to visit Megiso Mena, featured in an earlier story. Megiso's story was included in the Operation Change Ethiopia episode. He had one of the most extreme cases of mossy foot disease ever seen. The Starkey Foundation helped Megiso obtain special surgery in Israel.
During this visit to Megiso's home, Sharon was joined by Mara Klassen, a volunteer in the state-side office, as well as some of the Ethiopian staff, including Feleke, our wound care specialist. His feet, which had been so terribly swollen now fit into normal shoes.
Megiso expressed much gratitude for all of those who helped give his life back to him. He can now care for his land and his family has hope of a better future.