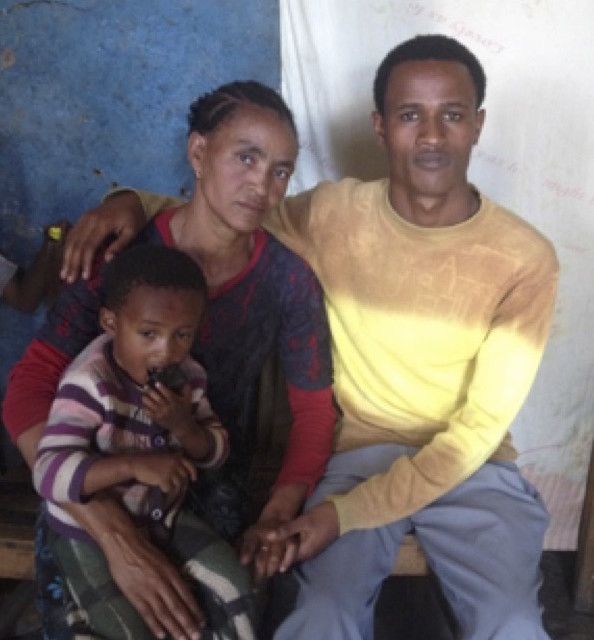 Hirut Paulos
"Today, I have forgotten my sorrows and difficult days. But I never want to forget the many other people who are still held captive to mossy foot disease."
My name is Hirut Paulos. I have gone through so many challenges and obstacles in my life it would take a long time to tell it all. I was ignored and left to die by others and I hid from people in my backyard. No one thought I would survive and achieve the good life I am now living.
When I was in seventh grade, I began experiencing symptoms of mossy foot disease and had to leave school. Even though I sought help, none of the treatments changed the condition of my feet. I was so miserable that I wanted to die. I pleaded with God to heal me.
Mossy foot disease started with my toes and ate my toenails like termites eat trees. When I went out in public, I wore a long dress so that no one could see my big feet. Mossy foot disease affected my entire body and I had frequent colds and malaria. Only God fully understands what I suffered.
My father, who died a few years ago, was very sorry for me and did all he could to help me be healthy and happy. My mom also comforted and encouraged me. But it was not easy for them to take me to hospitals for advanced treatment. But the Lord, for whom all things are possible, provided a way out that changed my life unexpectedly.
Through all my trials, I never lost my faith in God. I attended church and sang in a choir (which I still do!). One day at church, Ato Bereket, a worker with Mossy Foot Project, came to find me. He recommended that I get treatment at the Mossy Foot Project Clinic in the Boditi Health Center. I heard his suggestion as an answer to my prayer for help and believed this was God's timing for a change in my life, so I went to the health center in Boditi.
At Boditi, I met Ato Meskele, who provided treatment for my feet and encouraged me to believe I could have a positive future. He made me feel special and His kind words and humble spirit touched my heart.
After receiving treatment at the Mossy Foot Project clinic and three weeks of follow-up, my feet greatly improved, almost like they were originally. Now hope really began to grow inside of me. I might be able to continue my education, marry, and have children! I returned to school and completed the tenth grade, but I didn't score high enough on the tests to be able to continue on with eleventh and twelfth grade. I was disappointed.
When I told Ato Meskele about my disappointment, he told me he was confident that I could succeed if given the right chance. Shortly after this, he invited me to come to Sodo for a month to be trained as a hairdresser. The Mossy Foot Project covered my living expenses during the training. Two teachers taught hairdressing skills to me and other young women from clinic sites. After the training, I returned to my hometown and rented a small shop.
The Lord continued to fill my life with surprises. After my experience with mossy foot disease, I was very concerned with living a healthy life style and taking care of myself. While I was sick, I had never thought about having a husband. Now I had many young men ask me to marry them. I was very careful not to lead any of them on. But still, I felt special knowing these young men would like me as a wife.
Of the many young men I knew, I was drawn to one who sang in my church choir. He was a devoted Christian, but he was 10 years younger than I am, so I didn't really consider marriage. (I was 35 and he was 25.) He was a very good student, but his parents did not have the enough money to support him while he continued his education.
As we got to know each other through our choir practice, he shared his life story with me and I felt sad for him. I saw his ambition to study and improve his life and set goals for the future. So I decided I wanted to help him using the income from my hair dressing business.
One Saturday after choir practice, he asked me to marry him. I told him that he is very young and has a good future and that he deserves to marry someone younger than himself. But he wouldn't accept my arguments and persisted in asking me to marry him. He told me that I was his choice and no one else would make him happy. I prayed about marriage and thought it would not be good to marry somebody who loved me that much. But he still would not accept no for an answer. He sent elders to talk to my parents. Finally, I accepted this as God's plan and our parents arranged our wedding day in Boditi town.
My mother was very happy with my marriage and the changes in my life. She gave me a small calf as a wedding present. I fed and raised that calf and now it provides lots of milk for my mom and my son. My mom praises me by saying, "My beautiful daughter is my pride and my favorite supporter who brings rest to my heart."
God blessed me and my husband with a son. I work and provide for my husband and buy clothes for him and my son. I am helping him continue his education. He achieved good grades on the eleventh and twelfth grade exams and joined Wolaita Soddo University. He has completed two years of studying road and building construction engineering. He is still a very smart student!
God raised me from lowest level of life and blessed me unconditionally. He also blessed the rest of my family. My two brothers have reached a higher level in life. One is a doctor and the other is a government official. My husband also is heading in a good direction.
I will never forget the blessings God brought to me through the Mossy Foot Project. Now I serve the Mossy Foot Project as a network team volunteer. I visit the homes of patients frequently and monitor how they are doing. I encourage, teach, and preach to them. When I see people who are not being treated, I tell them to go to the Mossy Foot Project clinic for treatment. The patients love me and are always happy to see me. Because they respect and trust me, they send messages through me to the leaders of the Mossy Foot Project begging that clinics will remain open and continue to supply medicine.
Today, I have forgotten my sorrows and difficult days. But I never want to forget the many other people who are still held captive to mossy foot disease. God is my hope and I believe He will continue to provide for me. I want to see others in need be rehabilitated and filled with the same hope I have. My heart breaks when I see reduced activity at the clinic sites and I feel very sad for the patients.
Hirut's husband Ato Tafese adds these final comments
My wife has received many blessings and I feel fortunate to share those blessings through marriage.
People may think that I am more educated than Hirut, but in truth, she is more educated than I am and has helped educate me. My mother died and Hirut was both a mother and wife to me. She was beside me in all of the challenges I faced in my life. She supported me not because she is rich, but because she has a heart to help those in need. She has great faith in God, and that drew us together because God is first in my life also.
Hirut told me many times that she would not be my wife, but I did not give up easily. I felt that I needed her experience and strength and wanted to share my life with her. Finally, God brought us together and we were married. We are the happiest couple ever.